As a hobby breeder we only breed every few years, and only with quality in mind. We are very picky about homes for our pups and strive to arrange the best match for pups and potential new owners. As wonderful as Frenchies are, they are not for everyone. They have special health needs, and are first and foremost, a Companion dog. This is their job and they take it very seriously. If you have not researched the breed, please see our Links section and our Blog for quality sources of French Bulldog information.

Sorry. No puppies available now.
While Frenchies are a breed known for their abundance of personality, people have noted our puppies or dogs seem to have that little extra oomph! We chalk that up to lots of attention, intellectual stimulation, and being raised in a home environment.
After selecting our choice pup, we might have a puppy or two to place in a pet home. However, if you are looking for a particular color, gender, or time of year, we probably won't be able to fulfill each criteria. If you are looking for a puppy that comes from long hours spent matching pedigrees, considering the health status/testing of the sire, dam, and their ancestors, balancing strengths and faults of the sire and dam, providing proper nutrition and quality vet care to both mom and pups, and, finally, pups raised in a home environment, THEN you might want one of ours because this is the very sort of pup we want and produce for ourselves.
Naturally, requirements for an Ebullient! puppy home is very high. Expect lots of questions and pups go to homes on a SPAY/NEUTER policy ONLY. We also match pup's personality to a potential family. We want our puppies to be as happy in their new home as the potential owner. You are welcome to make inquiries. If you join our waiting list, we will send notification of expected litters. If you are looking to add a pup or dog to your family sooner, we can help direct you to other like-minded breeders with pups or expected litters.
Enjoy a few pictures of past litters.
Past Litters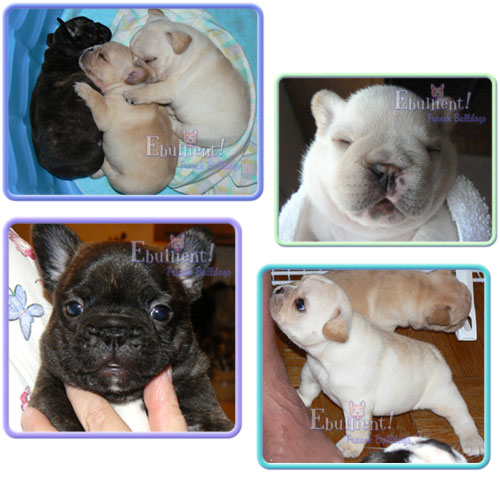 No retirees at this time. Try Good Bloggie! for other available Frenchies. Check the bar at the top of the blog.
If you have your heart set on a puppy, other breeders may have puppies available. See breeder information on the Links page.


There are several rescue groups for French Bulldogs. Dogs find their way to these groups for all sorts of reasons. Perhaps there is an available Frenchie, just waiting for you to come along!
---

Click the button to learn why.
---